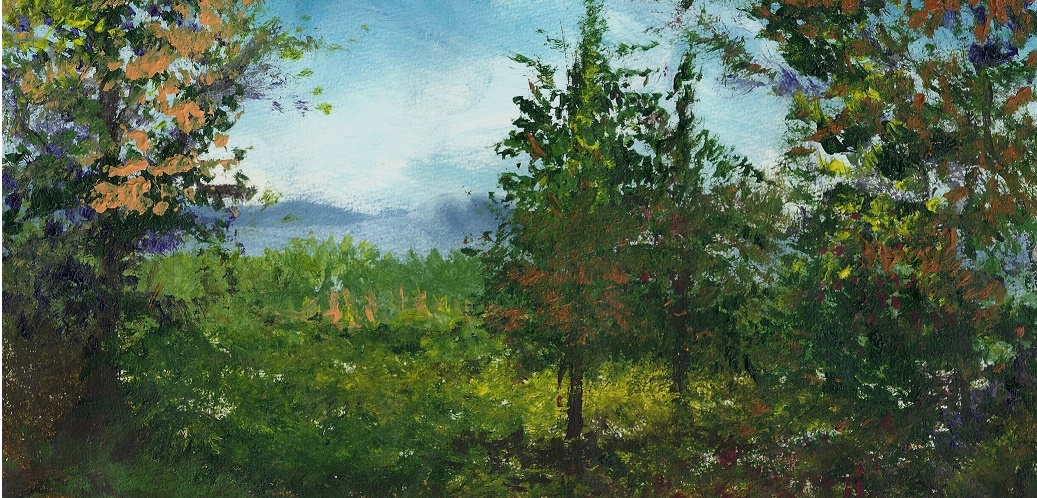 My paintings are mirrors of my soul. I get my inspiration from the drama of life and nature, focusing more on the mood and color of a subject rather than its details. I often find myself wondering around in the nature where a tree, a cloud or even light and shadow can become the head stone of a new painting. I paint with my eyes open but it is always my dreams that I'm painting, my soul and emotions, my triumphs as well as my failures and sorrows.
Biography

Contemporary Impressionistic painter, Yossi Sigura, was born (1964) and raised in Israel. In his early years as an artist, he was focused on painting very realistic portraits and nudes, but his interest in nature led him over the years towards landscape painting.
Lyrical and vibrant, Sigura's paintings feature forests, skyscapes, seascapes and portraits rendered in fantastic colors. He creates in a variety of mediums; painting acrylics, pastel, ink, charcoal and watercolor. He also creates clay and bronze sculptures.
His main inspiration is the landscapes of Israel, especially the forests and trees on Mount Carmel and the Galilee mountains and valleys. His other big love and inspiration are the big forests in northern America which he keeps returning to in his paintings.
Sigura's art work comes from life and soul. His artistic style is expressive, using vibrant color and strong compositions. He paints a variety of subjects in a variety of styles but his roots are well in the impressionistic tradition of painting. The development of his style was never a conscious decision; it just evolved over the years.
His works are in many private collections in many countries in the world like Canada, United States, Israel, Germany, United Kingdom and many more.
Events and Exhibitions (2016)
NEW YORK -

"Show Your World" international exhibition taking place at Gallery MC at 549 West 52nd Street, New York, NY on January 15 -17, 2016.

FLORENCE -

"AVANTGARDE II" group exhibition, MERLINO.BOTTEGA D'ARTE gallery, Florence Italy, on January 8 -18, 2016.

TEL-AVIV -

"Abstract landscapes" group exhibition, Givataim theater gallery, on April 3-28, 2016.

TEL-AVIV -

"Colors" "Group Exhibition, 4-25 December 2016, Hangar 4 gallery, Neve Zedek, Tel Aviv.
Events and Exhibitions (2015)
PARIS -

International exhibition in Paris, FRANCE July 11-21, 2015 at Galerie Artes, located at 11 Rue Frederic Sauton, Paris 75005.

TEL-AVIV -

Group exhibition,Tel Aviv, Israel July 22- September 01, 2015 at Studio Art TLV, located at 5 Abulafia street, Tel-Aviv.

TUSCANY -

International Group Exhibition, September 2015, Castello di Populonia in Baia Baratti, Tuscany Italy

NEW YORK -

International exhibition in New York City, September 15-22, 2015 at Jadite Gallery, located in Midtown Manhattan at 662 10th Avenue, NYC.

TEL-AVIV -

Green relationships, September 1 - 30, 2015 at the national theater of Israel, Habima.

VENICE -

International event in Venice, Italy Sep 25, 2015 at Marin Palace "Palazzo Marin", in Venice.

JERUSALEM -

Group Exhibition, October 2015 at Jerusalem Cinematheque, Hebron road 11, Jerusalem.

TEL-AVIV -

Group Exhibition, November 2015, Green House gallery, Tel Aviv University.
Recent Awards / Recognitions / Publications
3rd place in "Abstracts 2015" international art competition organized by "Light Space and Time" gallery. To the competition page
International Prize Marco Polo - Art Ambassador. The Prize is for the "Artists that are worth for their artistic merit".
I was selected as "Guest Artist" in an international art exhibition in Tuscany, Italy, orgenized by the IN3 organization
I was very honored to be selected by ARTSY SHARK as featured artist and share my artwork and my inspiration. To the page
Manhattan Arts International published an artist showcase page about me and my art: To the showcase page
The Healing Power of ART & ARTISTS published a page dedicated to me and my art: To the page
The Artist Portfolio Magazine selected me as featured artist for their 5 Year Anniversary Art Exhibition: To the Artist Portfolio Magazine page
I was selected to be one of the winners of "Show your world international competition". Artists from 43 countries submitted their work to the "Show Your World" art contest and my art works was selected to be included in the "Show Your World" exhibition in NYC. To the Letter of Recognition
3rd place in "Colors of Fall" international art competition organized by "Fusion Art" gallery. To the competition Video
The Healing Power of ART & ARTISTS selected me as Featured Artist of The Week and published an article about me and my art: To the page
America-Israel Cultural Foundation published a page about me and my art: To the page
Folt Bolt - the colourful art palette selected me as featured artist and published a page dedicated to me and my art: To the page
I was very honored to be invited by ARTSY SHARK to share my artwork and my inspiration in an artist's showcase. To the article